Thunderbird is a popular open source mail client and can be configured to send and receive emails from your Freethought hosting account.
When opening thunderbird for the first time you will be prompted to set up a mail account, you can also access this by going to Edit > Account Settings, At the bottom of the screen you will see "Account Actions" click that and select "Add Mail Account".
Start to fill out the information and then click "Configure manually..."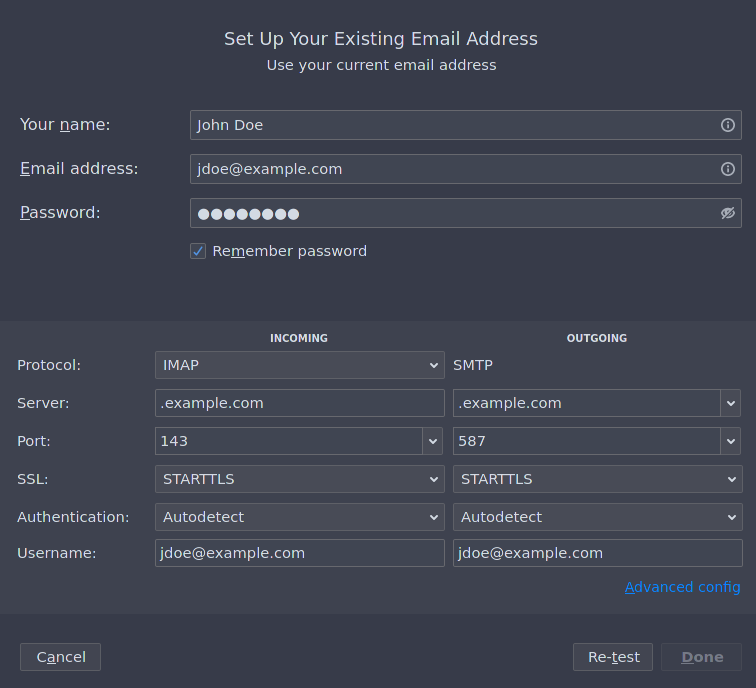 We recommend using IMAP as the protocol as this keep the email on the server and ensures that all devices that you use for email are in sync. POP3 downloads the emails to your device and deletes them off the server, were your device to ever loose that data though your email would be gone forever unless you had a backup configured.
For the server field enter your domain, so if your domain is jonesfamily.co.uk then enter just this for both incoming and outgoing. Ports can remain the default, and use STARTTLS as the SSL type. The username is your full email address so should work with the default entry.
Once everything has been filled out click "Re-test" to confirm the connection is successful and then click "Done". You should now be able to view and send emails 🙂